Chipmunk And Squirrel Removal Kit
Special Price
CA$93.19
Regular Price
CA$103.58
Earn 1860 rewards points on your purchase! Learn More
For use against chipmunks and squirrels
3 Step Solution: Remove the attractant or food source, trap the nuisance animal, and remove them from the area, then use a repellent to prevent them from returning
The patented technology of the Small 1-Door Easy Set® Trap allows you to set your trap with one hand and release nuisance animals without ever touching the door
Insecticidal Soap kills aphids, mealy bugs, spider mites, and whiteflies on houseplants, flowering plants, fruits, and vegetables
The long-lasting formula of the Critter Ridder® Animal Repellent repels pest animals by both odor and taste
Kit includes 1 Havahart® Small 1-Door Easy Set® Trap and 1 Safer's® Critter Ridder® Liquid Animal Repellent - 940 mL
Chipmunk and Squirrel Removal Kit
The Chipmunk and Squirrel Removal Kit incorporates the Havahart® Small 1-Door Easy Set® trap as well as the Critter Ridder® Animal Repellent to alleviate problems with chipmunks, squirrels, and other nuisance animals. The trap will allow for capture and release of chipmunks and squirrels along with many other small animals and the repellent spray repels by odor and by taste repelling small nuisance animals from your property for up to 30 days!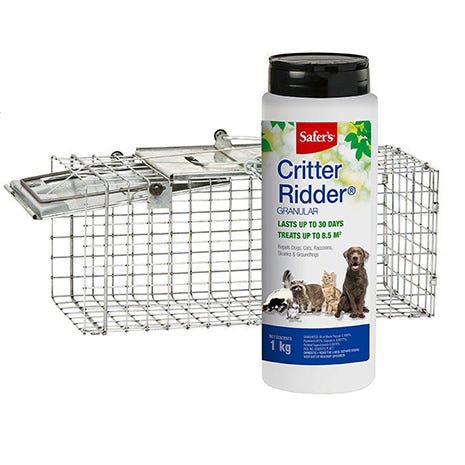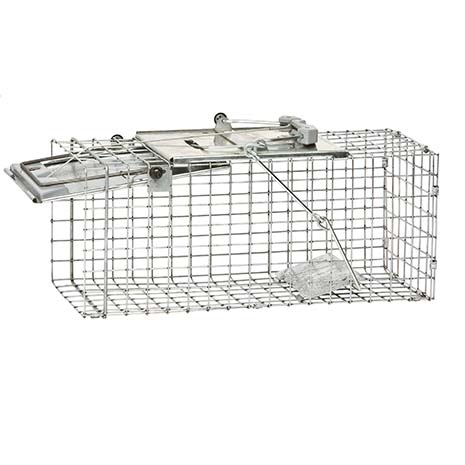 Havahart® Small 1-Door Easy Set® Trap
Catching small animal pests can be tricky, but with the Havahart® Small 1-Door Easy® Set, you can confidently capture squirrels, chipmunks, or other small animals before they cause damage to your landscape, build nests in your home, or steal your birdseed. Trapping animal pests in a humane manner, in a way that's safe both for you and the animal, is the specialty of Havahart®. Using this trap, you can confidently remove pests from your property and release them far away from settled areas.
Simple to Operate
Trapping has never been more simple than with Havahart® Easy Set® traps. Patented technology allows you to set your trap with just one hand, and let critters go without ever touching the door. Plus, updated sturdy hardware provides additional comfort and durability to this simple rabbit trap.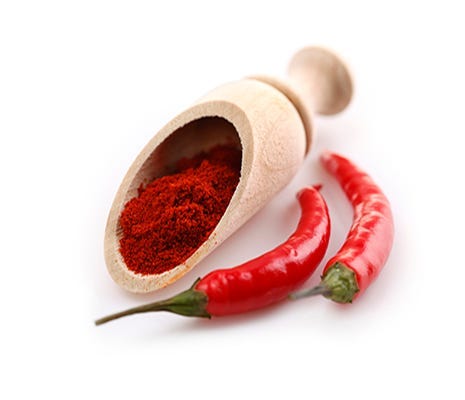 Simple and Natural Ingredients
Critter Ridder® contains three intense ingredients that trigger the animal's senses and teach them to avoid the area. The granules inside the canister combine piperine, oil of black pepper and capsaicin to create a strong repellent that causes an unpleasant taste and smell for nuisance animals.
Application Tips
Critter Ridder® comes in a convenient ready-to-use spray bottle, allowing you to apply it directly to specific areas. The 940 mL bottle treats up to 29.7 M2 and is intended for both indoor and outdoor use. Apply this spray to a variety of areas, such as lawns, flowerbeds, attics, basements, sheds, storage areas, garages, barns, and near trash cans.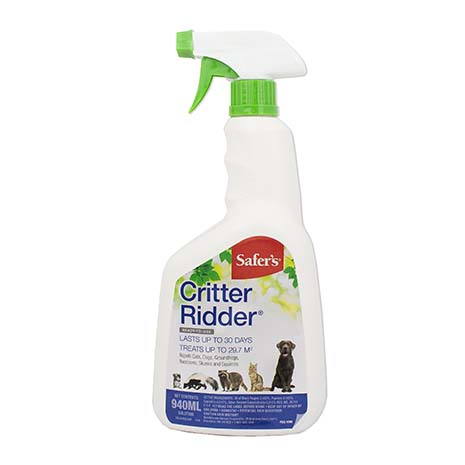 Chipmunk and Squirrel Removal Kit Product Details
Do you want to know more helpful details about the Chipmunk and Squirrel Removal Kit Product? Take a closer look at the in-depth specifications for this product.
Chipmunk and Squirrel Removal Kit Product Details
Model #
SQRKITCAN
Includes

Havahart® Small 1-Door Easy Set® Trap
Safer's® Critter Ridder® Liquid Animal Repellent - 940 mL

Effective Against

Havahart® Small 1-Door Easy Set® Trap

Chipmunks, squirrels, weasels

Safer's® Critter Ridder® Liquid Animal Repellent - 940 mL

Raccoons, skunks, dogs, cats, squirrels, groundhogs
Chipmunk and Squirrel Removal Kit Product Details
Model #
SQRKITCAN
Effective Against

Havahart® Small 1-Door Easy Set® Trap

Chipmunks, squirrels, weasels

Safer's® Critter Ridder® Liquid Animal Repellent - 940 mL

Raccoons, skunks, dogs, cats, squirrels, groundhogs

Recommended Use

Havahart® Small 1-Door Easy Set® Trap

Spring loaded with galvanized steel

Safer's® Critter Ridder® Liquid Animal Repellent - 940 mL

Each application lasts about 30 days