Multi-Animal Removal Kit - Large
Special Price
CA$189.99
Regular Price
CA$231.38
Earn 3780 rewards points on your purchase! Learn More
For use against raccoons, skunks, cats, groundhogs, rabbits, and opossums
3 Step Solution: Remove the attractant or food source, trap the nuisance animal, and remove them from the area, then use a repellent to prevent them from returning
The Large 2-Door Trap built to last with sturdy, rust resistant galvanized steel and smooth internal edges to protect animals form injury
The Motion-Activated Animal Repellent & Sprinkler repels pest animals with a short burst of water that scares them away and helps prevent them from returning
Kit includes 1 Havahart® Large 2-Door Trap and 1 Havahart® Motion-Activated Animal Repellent & Sprinkler
Havahart® Multi-Animal Removal Kit
The Havahart® Multi-Animal Removal Kit incorporates the Havahart® Large 2-Door Trap as well as the Critter Ridder® Motion-Activated Animal Repellent & Sprinkler to alleviate problems with multiple animals including raccoons, opossums and Groundhogs and other nuisance animals. The trap will allow for capture and release of problem animals and the repellent sprinkler serves as a deterrent by frightening away nuisance critters with startling bursts of water!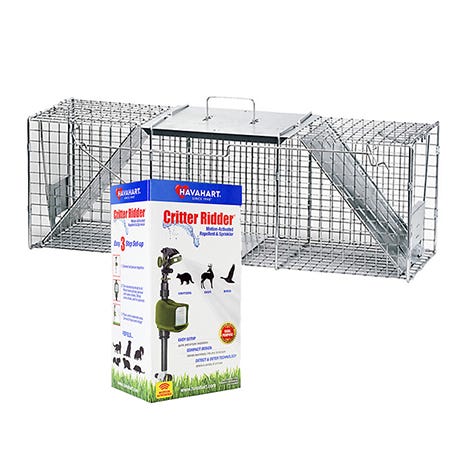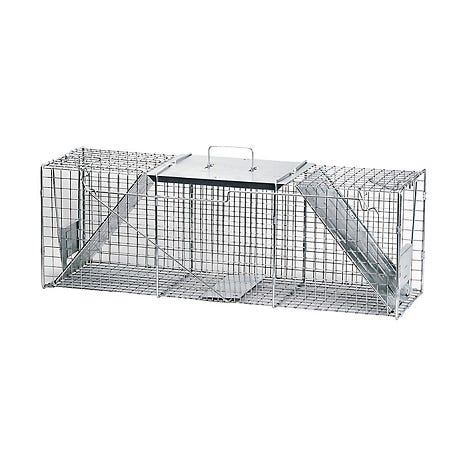 Havahart® Large 2-Door Trap
Humanely and safely corral wild critters with this Havahart® Large 2-Door Trap. It is designed by experts in the field to be effective, durable, and reliable. Its sensitive tripping mechanism specially targets large animals while avoiding false triggers. Spring-loaded doors trap animals effectively and prevent unwanted escapes. This trap includes a handle guard and solid metal doors that prevent you from making contact with the animal during transport.
Easy to Operate
This large 2-door animal trap is designed with homeowners in mind. The trap is simple to operate and allows trappers of all experience levels to successfully capture, transport, and release sizable animals such as groundhogs and raccoons. Two door traps are best used against walls or along animal travel paths to help increase the possibility of capturing them from either direction. Depending on your needs, this animal trap can also be set with only one door open, making it a versatile choice for homeowners.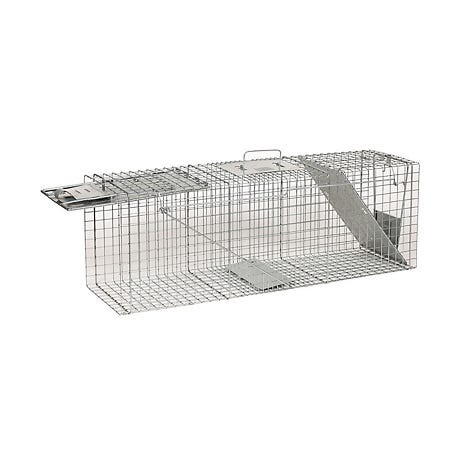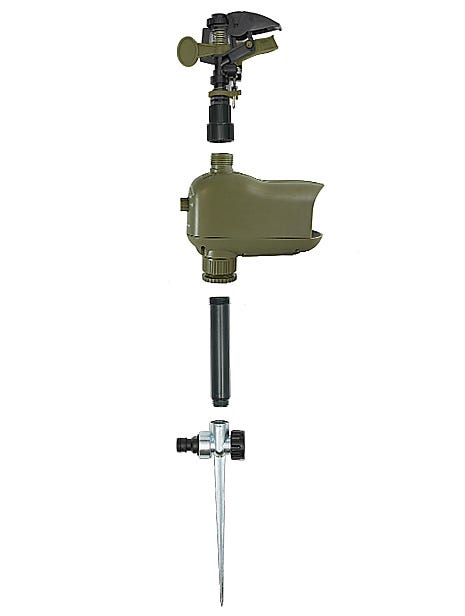 Quick and Simple Installation
For your convenience, the Critter Ridder® Motion-Activated Animal Repellent & Sprinkler is easy to set up. Just follow these simple steps to get it up and running.
Connect all four pieces of the unit by screwing them together until finger tight. Make sure the dial is in the OFF position, then insert 2 AA batteries (not included) into the battery compartment.
Turn the sensitivity knob to setting 4. Move hand across the sensor until the valve clicks. You will hear another click approximately 5 seconds later. If you heard both clicks, the unit is working properly. If not, wait 8 seconds and wave your hand again.
Stake the unit into the ground wherever you'd like to repel animals and adjust the range as necessary. Avoid pushing on the housing as you place in the ground. Use a spade to loosen the soil if needed.
Attach a standard garden hose to the connector. Test the device to make sure the sensor detects your movement at the selected range.
Turn on the water, the device is now ready to use.
Provides 24/7 Monitoring
Critter Ridder®'s infrared sensor seeks animal heat and movement day and night. Every time that it detects a passing animal, the device releases a startling surge of water for approximately 5 seconds to scare the invader away. This conditions potentially destructive critters to avoid your property, keeping your gardens, ponds and home safe.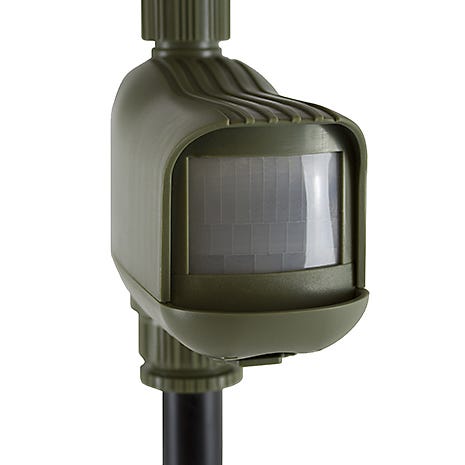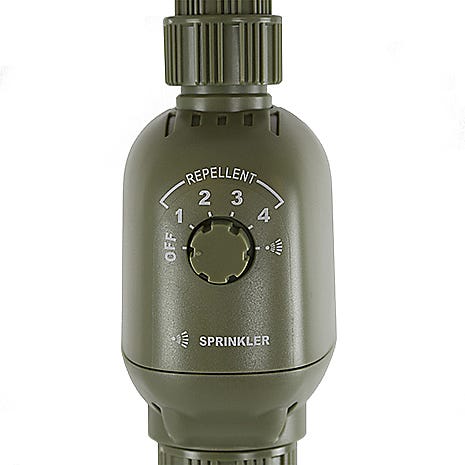 Multiple Settings Offer Flexibility
To ensure you get exactly the protection you want, the Critter Ridder® Motion-Activated Repellent has 4 available setting on the sensitivity dial, ranging from least to most sensitive. In addition, the sprinkler head features a distance dial so you can adjust the range of the spray – up to 100 feet (depending on conditions). Use these dials to determine how far and what size critters you want your device to see.
Havahart® Multi-Animal Removal Kit Product Details
Do you want to know more helpful details about the Havahart® Multi-Animal Removal Kit? Take a closer look at the in-depth specifications for this product.
Havahart® Multi-Animal Removal Kit
Model #
MARKITL2
Includes

Havahart® Large 2-Door Trap (1 Trap)
Critter Ridder® Motion-Activated Animal Repellent & Sprinkler (1 Sprinkler)

For Use

Havahart® Large 2-Door Trap (1 Trap) Armadillos, beavers, bobcats, cats, small dogs, small foxes, groundhogs, nutria, opossums, and raccoons
Critter Ridder® Motion-Activated Animal Repellent & Sprinkler Birds, cats, chipmunks, deer, dogs, groundhogs, opossums, rabbits, raccoons, skunks, squirrels
Havahart® Multi-Animal Removal Kit
Model #
MARKITL2
Includes

Havahart® Large 2-Door Trap (1 Trap)
Critter Ridder® Motion-Activated Animal Repellent & Sprinkler (1 Sprinkler)

For Use

Havahart® Large 2-Door Trap (1 Trap) Armadillos, beavers, bobcats, cats, small dogs, small foxes, groundhogs, nutria, opossums, and raccoons
Critter Ridder® Motion-Activated Animal Repellent & Sprinkler Birds, cats, chipmunks, deer, dogs, groundhogs, opossums, rabbits, raccoons, skunks, squirrels

Features

Havahart® Large 2-Door Trap (1 Trap) Spring-loaded with galvanized steel
Critter Ridder® Motion-Activated Animal Repellent & Sprinkler Detection range up to 100 ft and spray range up to 35 ft