Rabbit and Cat Removal Kit
Special Price
CA$159.29
Regular Price
CA$187.28
Earn 3180 rewards points on your purchase! Learn More
For use against raccoons and skunks
3 Step Solution: Remove the attractant or food source, trap the nuisance animal and remove them from the area, then use a repellent to prevent them from returning
The Large 1-Door Animal Trap is designed for higher catch rates and fewer escapes while also preventing injuries to animals with its smoothed internal edges
Critter Ridder® Animal Repellent Granules is a dual action repellent that works to repel nuisance animals by odor and taste
Kit includes 1 Havahart® Large 1-Door Easy-Set® Animal Trap and 1 Safer's® Critter Ridder® Animal Repellent Granules
Rabbit and Cat Removal Kit
The Havahart® Rabbit and Cat Removal Kit incorporates the Havahart® Large 1-Door Easy Set® trap as well as the Critter Ridder® Animal Repellent Granules to alleviate problems with rabbits, cats and other nuisance animals. The trap will allow for capture and release of rabbits and cats along with many other nuisance animals and the repellent granules repel by odor and by taste repelling unwanted animals from areas around your home!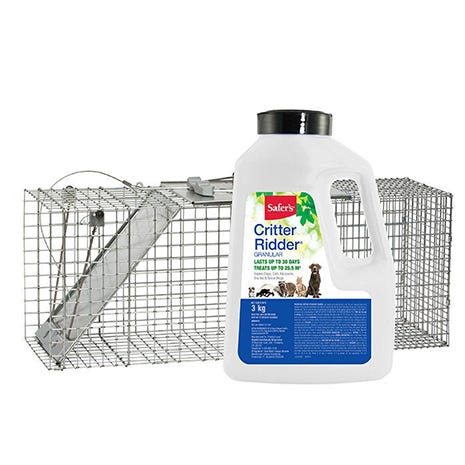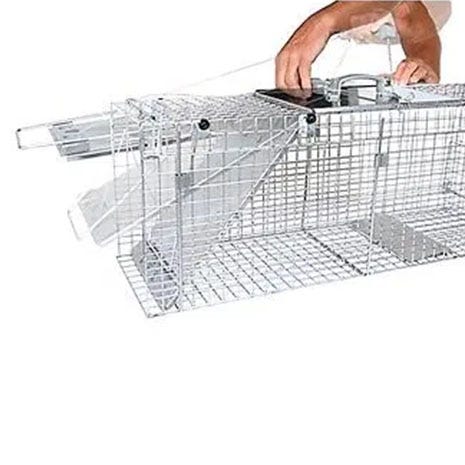 Trapping Has Never Been Easier
Trapping has never been simpler than with Havahart® Easy Set® traps. Patented technology allows you to set your trap with just one hand, and let critters go without ever touching the door. Plus, updated sturdy hardware provides additional comfort and durability to this simple rabbit trap.
Rolled Metal Edges Protect the Animal
Like other Havahart® traps, this one is constructed of one-piece wire mesh, galvanized for resistance to rust and corrosion. And edges are polished smooth to protect the animal from injuring itself during transport or as it struggles to escape.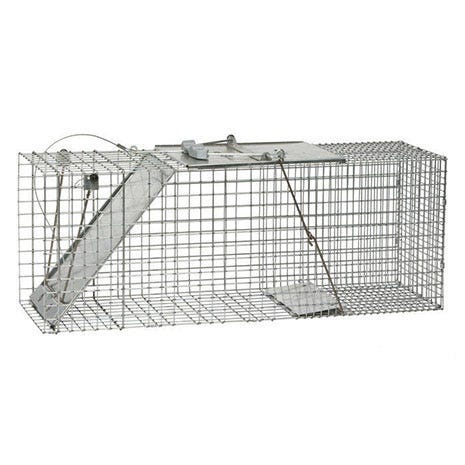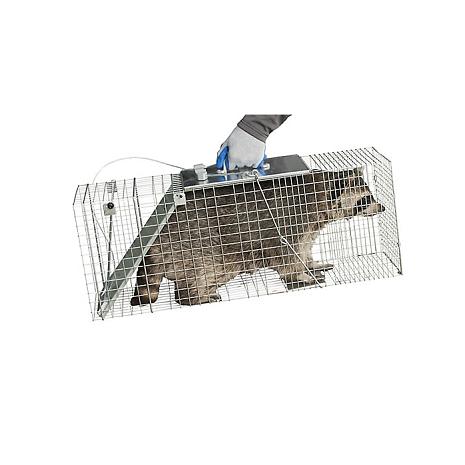 Enlarged Hand Guard and Carrying Handle Protect You
An enlarged steel plate covers the entire width of the top of the trap, protecting your hand from contact with the animal, and the updated, rigid plastic carrying handle makes the handling experience even more comfortable for you.
Safer's® Critter Ridder® Animal Repellent
Safer's® Critter Ridder® Animal Repellent works to protect your yard from wildlife and stray pets. Without harming the animal, the dual-action formula repels by overwhelming their sense of smell and taste. Thanks to a combination of active ingredients, these granules are fast-acting, teaching the pests quickly to avoid the area. Use Critter Ridder® to protect your lawn and flowerbeds from raccoons, groundhogs, cats, dogs, and more. One application provides up to 30 days of critter protection.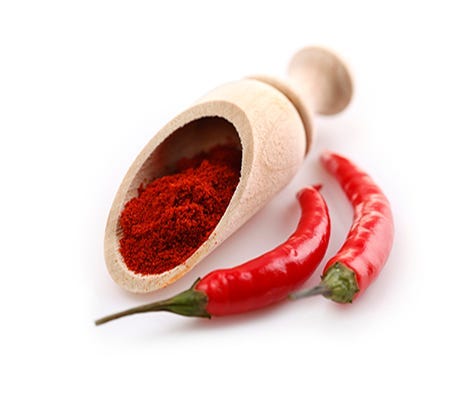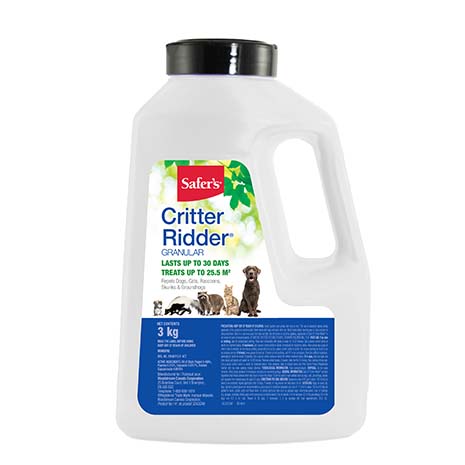 Application Tips
Critter Ridder® comes in a convenient shaker container, allowing you to directly apply it to specific areas. You can also use a lawn spreader or put some gloves on and spread it by hand. Each two-pound canister covers up to 120 square feet.
Rabbit and Cat Removal Kit
Do you want to know more helpful details about the Rabbit and Cat Removal Kit? Take a closer look at the in-depth specifications for this product.
Complete Product Details »
Rabbit and Cat Removal Kit
Model #
RCRKITCAN
Includes

Havahart® Large 1-Door Easy Set® Trap
Safer's® Critter Ridder® Animal Repellent - 3 kg

For Use

Havahart® Large 1-Door Easy Set® Trap

Rabbits, cats, armadillos, groundhogs, muskrats, nutria, opossums, raccoons, skunks

Safer's® Critter Ridder® Animal Repellent- 3 kg

Raccoons, skunks, dogs, cats, squirrels, groundhogs
Rabbit and Cat Removal Kit
Model #
RCRKITCAN
Includes

Havahart® Large 1-Door Easy Set® Trap
Safer's® Critter Ridder® Animal Repellent - 3 kg

For Use

Havahart® Large 1-Door Easy Set® Trap

Rabbits, cats, armadillos, groundhogs, muskrats, nutria, opossums, raccoons, skunks

Safer's® Critter Ridder® Animal Repellent- 3 kg

Raccoons, skunks, dogs, cats, squirrels, groundhogs

Features

Havahart® Large 1-Door Easy Set® Trap

Patented Easy Set® design allows you to set and release the trap with one hand
Enlarged steel plate and handle on the top of the trap minimizes risk of contact with animal
Smooth, rolled trap edges protect the animal from injury
Spring-loaded door lock helps prevent animals from escaping
Sensitivity screw allows you to tailor the trap to target animal

Safer's® Critter Ridder® Animal Repellent- 3 kg

Each application lasts about 30 days