Special Price
CA$87.19
Regular Price
CA$109.98
Earn 1740 rewards points on your purchase! Learn More
For use against rabbits
3 Step Solution: Remove the attractant or food source, trap the nuisance animal, and remove them from the area, then use a repellent to prevent them from returning
Havahart® Medium 1-Door Trap has a spring-loaded door that quickly reacts to lock animals in securely & prevents escapes
Critter Ridder® Animal Repellent Spray uses a dual-action formula to repel nuisance animals by odor and taste
Kit includes 1 Havahart® Medium 1-Door Trap and 1 Safer's® Critter Ridder® Liquid Animal Repellent
Rabbit Removal Kit
The Havahart® Rabbit Removal Kit incorporates the Havahart® Medium 1-Door Trap as well as Critter Ridder® Animal Repellent to alleviate problems with various smaller nuisance animals. The trap will allow for capture and release of multiple destructive animals on your property and the ready to use repellent repels by odor and by taste repelling unwanted animals from areas around your home!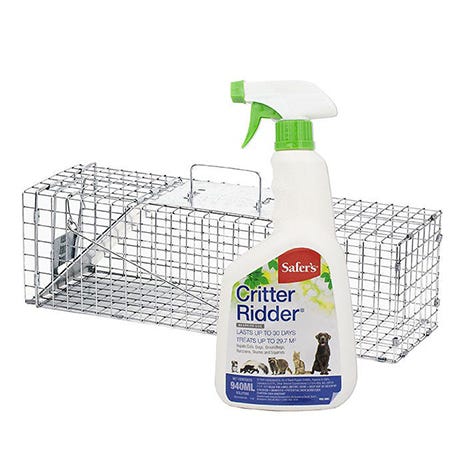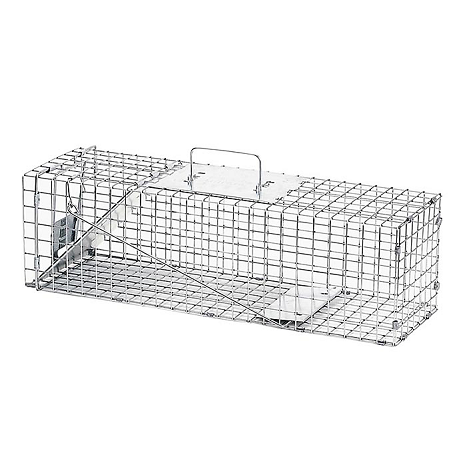 Havahart® Medium 1-Door Trap
Catching mid-sized animal pests can be tricky, but with the Havahart® Medium 1-Door Trap, you can confidently capture squirrels, rabbits, or skunks before they cause damage to your landscape, build nests in your home, or spray curious pets or children. Trapping animal pests in a humane manner, in a way that's safe both for you and the animal, is the specialty of Havahart®. Using this trap, you can confidently remove pests from your property and release them far away from settled areas.
Simple to Operate
For your convenience, this trap is simple to set. Using the elongated lever, set the trap in the open position and add a small amount of food for bait. Your instruction manual has bait recommendations for the type of animal you wish to catch. Once the animal is inside, the door closes automatically, trapping the animal securely.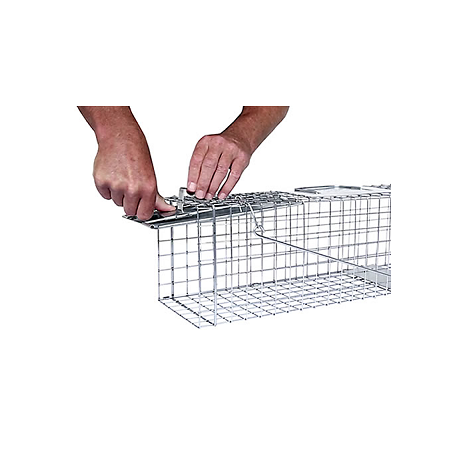 Simple and Natural Ingredients
Critter Ridder® contains three intense ingredients that trigger the animal's senses and teach them to avoid the area. The granules inside the canister combine piperine, oil of black pepper and capsaicin to create a strong repellent that causes an unpleasant taste and smell for nuisance animals.
Application Tips
Critter Ridder® comes in a convenient ready-to-use spray bottle, allowing you to apply it directly to specific areas. The 940 mL bottle treats up to 29.7 M2 and is intended for both indoor and outdoor use. Apply this spray to a variety of areas, such as lawns, flowerbeds, attics, basements, sheds, storage areas, garages, barns, and near trash cans.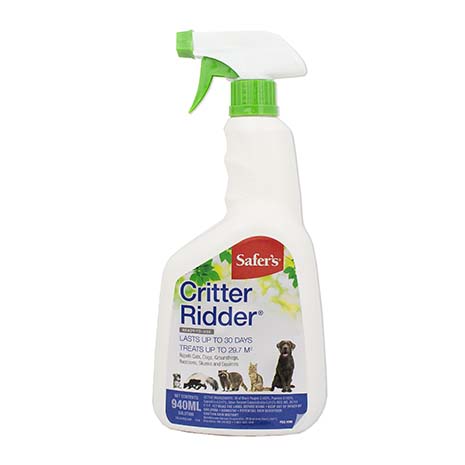 Rabbit Removal Kit Product Details
Do you want to know more helpful details about the Rabbit Removal Kit? Take a closer look at the in-depth specifications for this product.
Complete Product Details »
Rabbit Removal Kit
Model #
RRKIT2CAN
Includes

Havahart® Medium 1-Door Trap
Safer's® Critter Ridder® Liquid Animal Repellent - 940 mL

Effective Against

Havahart® Medium 1-Door Trap

Rabbits, skunks, squirrels

Safer's® Critter Ridder® Liquid Animal Repellent - 940 mL

Raccoons, skunks, dogs, cats, squirrels, groundhogs
Rabbit Removal Kit
Model #
RRKIT2CAN
Includes

Havahart® Medium 1-Door Trap
Safer's® Critter Ridder® Liquid Animal Repellent - 940 mL

Effective Against

Havahart® Medium 1-Door Trap

Rabbits, skunks, squirrels

Safer's® Critter Ridder® Liquid Animal Repellent - 940 mL

Raccoons, skunks, dogs, cats, squirrels, groundhogs

Medium 1-Door Trap (1078) Specifications

Best used for rabbits, skunks, and squirrels
Spring-loaded door quickly reacts to lock animal in securely and prevents escapes
Smooth edges inside the trap help prevent injury to the animal
Solid metal door and handle guard protect you from contact with the animal during transport
Constructed with durable, rust-resistant galvanized steel

Liquid Animal Repellent (31452CAN) Specifications

Repels raccoons, skunks, dogs, cats, squirrels, and groundhogs
Uses oil of black pepper, piperine, & capsaicin to keep critters away
Dual-action formula repels animals by scent and taste
Lasts up to 30 days
Multi-surface protection: Spray on plants and outdoor surfaces
For indoor and outdoor use