TERRO® Large Wasp & Fly Trap Refill
Earn 200 rewards points on your purchase! Learn More
For use with TERRO® Wasp & Fly Trap (T516)
Attracts wasps, hornets, yellow jackets, and flies
Convenient 4-step setup makes it easy-to-use
Unique, stink-free bait formula
Terro® Wasp & Fly Trap - Refill
Get continuous protection from your trap with the TERRO® Wasp & Fly Trap Refill. This replacement bait bag can be placed inside your reusable TERRO® Wasp & Fly Trap (Model # T516) once the old bait bag is full of flies and other insects. Simply empty the old bait and add the new bait without ever missing a beat in your fight against flying insects.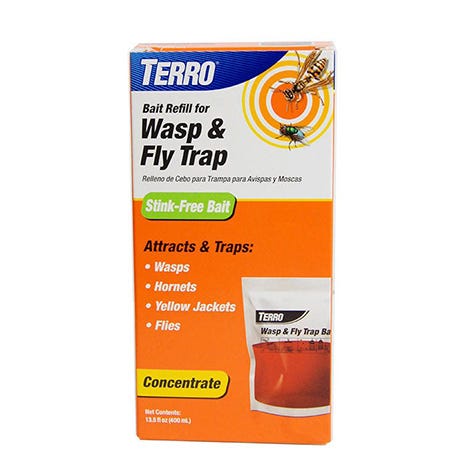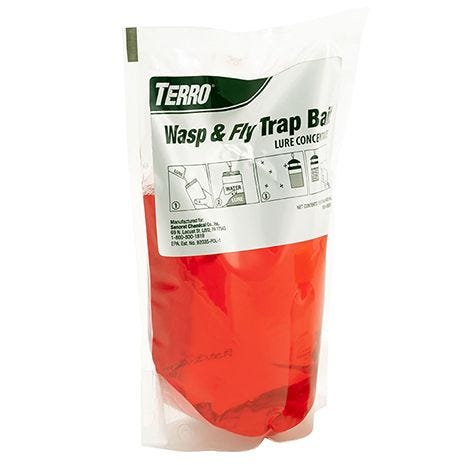 Stink-Free Bait
The large container holds a unique, dual-purpose bait, which is designed to attract flies as well as wasps, hornets and yellow jackets. Best of all, it attracts these nuisance insects without the distinctive odor that is common of other fly traps. That's right – it's stink-free!
Target Unwanted Insects
With theTERRO ® Wasp & Fly Trap, you can control stinging insects that bother you outside. Its dual-action function also allows you to attract and trap frustrating flies! Best off, it won't lure beneficial pollinators, such as honeybees and bumblebees.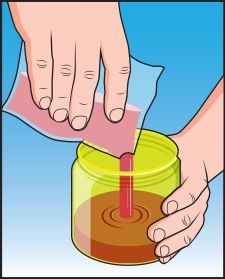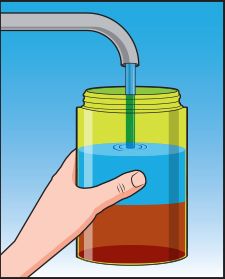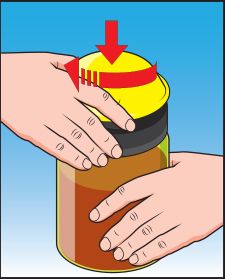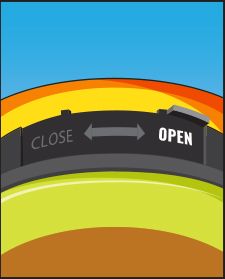 How to Bait the Terro® Wasp & Fly Trap
For your convenience, the TERRO® Wasp & Fly Trap is incredibly easy to setup. After the old bait is filled with insects, simply pour out the old bait and refill with new! Follow the process below to bait the trap in four simple steps.
Pour the bag of bait concentrate into the canister.
After pouring in the bait, add water up to the fill line on the trap.
Close the trap lid. Hold onto the black ring, not the yellow cap when screwing the lid on. Check that the lid is properly secured.
Make sure the Bug Lock Lid™ is in the OPEN position before using the trap.
TERRO® Wasp & Fly Trap Refill Product Details
Interested in learning more about TERRO® Wasp & Fly Trap Refill? Take a closer look at its in-depth specifications for this product.
TERRO® Wasp & Fly Trap Refill
Model #
T517
Refills
Bait for TERRO® Wasp & Fly Trap (Model # T516)
Includes
1 Bag of Stink-Free Bait
Eliminates
Wasps, hornets, yellow jackets, and flies
TERRO® Large Wasp & Fly Trap Refill
Model Number
T517
Weight
1.120 lb
Dimensions
2.0 x 4.2 x 7.50 in
Includes
1 Bag of stink-free bait