Zareba® 10 Mile AC Low Impedance Charger
Earn 4020 rewards points on your purchase! Learn More
Energizes up to 10 miles of fence
Works in heavy weed conditions
1-Year Limited Warranty including lightning damage
Built in USA | Full-load tested in the U.S. after manufacturing
AC power with pulsed output (1-second intervals)
.5 joule output
Service Experts Available To Answer Your Installation Questions
Best Used For:




Zareba® 10 Mile AC Powered Low Impedance Charger
Deliver power to large fences with the Zareba® 10 Mile AC Powered Low Impedance Charger. This powerful AC charger works well even in areas with heavy weeds, and it provides power for up to ten miles of fence, depending on the type of wire chosen and the level of weeds and vegetation. Contain your livestock with this handy and reliable low impedance charger.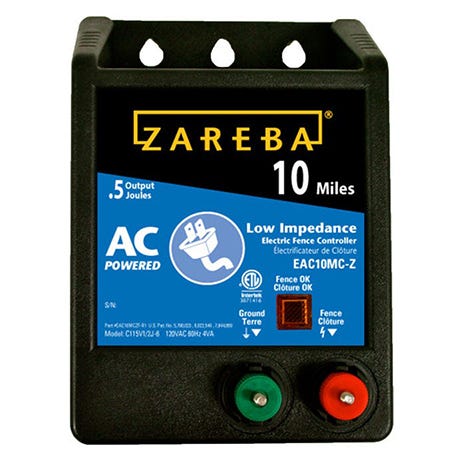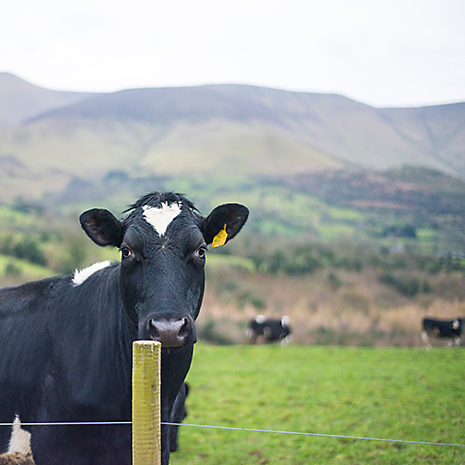 Controls Animals Effectively
This AC powered charger helps to keep cattle, horses, pigs, fowl, rabbits, and other small livestock away from your fence and suitably corralled. It produces a pulsed output running at 1-second intervals delivering .5 joules and up to 10,500 volts. This energizer provides a stable output for up to 10 miles of fence line under optimal conditions with steel wire, and up to 5 miles with poly fencing.
Use With Steel or Poly
Whatever kind of fence you have, this Zareba® 10 Mile AC Low Impedance Charger can provide the wire with power. When used with steel wire the energizer will power up to 10 miles with no weeds, 5 miles with light weeds and 2.5 miles with heavy weeds. When used with poly fencing, the energizer can power up to 5 miles in optimal conditions, 2.5 miles with little weeds and 1 mile with heavy weeds.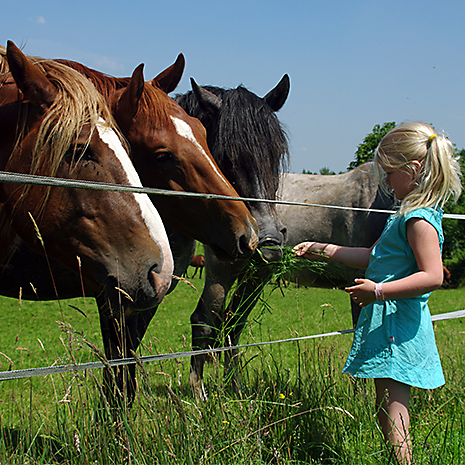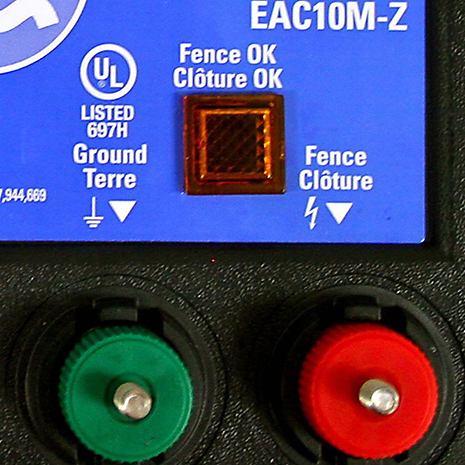 Monitor the Status of Your Fence
This charger runs on AC power, 115 volt and produces 0.5 output joules. While its outer housing is contained in a durable cabinet it should still be protected with shelter from the elements. The housing features a "Fence OK" indicator light that shows the status of the fence clearly, illuminating when the charger is active. This Zareba® 10 Mile AC Powered Low Impedance Charger is fuseless, durable, and works even in heavy vegetation conditions.
How to Install an AC (Plug-In) Fence Charger
Learn how to properly install and choose the right location for your new AC fence charger!

"Great charger well designed and built I'm very glad I went with Zareba® and I'll be back when I need something else."
Read More Reviews »
Zareba® 10 Mile AC Powered Low Impedance Charger Product Details
Do you want to know more helpful details about the Zareba® 10 Mile AC Powered Low Impedance Charger? Take a closer look at the in-depth specifications for this product.
Complete Product Details »
Zareba® 10 Mile AC Powered Low Impedance Charger
Model #
EAC10MC-Z
Coverage
10 Miles, heavy weed conditions
Placement Option
Protect the charger in a weatherproof box or location
Output Information

115 volt, 60 cycle; pulsed output (1-second intervals)
0.5 joule output
Output voltage no load is 10,500 volts

Warranty
Includes a 1-year limited warranty including damage caused by lightning

Zareba® Systems
Zareba® is the largest manufacturer of electric fence systems in North America. Our company offers durable, reliable electric fence products for all your pet and livestock fencing needs. Since the1930s, Zareba® and its related brands have been leaders in electric fencing, providing for homes, farms and ranches. If you have questions about your electric fencing purchase, reach out to Zareba® Service Experts for assistance.
ZAREBA® 10 MILE AC POWERED LOW IMPEDANCE CHARGER
Model #
EAC10MC-Z
Coverage
10 Miles, heavy weed conditions
Placement Option
Protect the charger in a weatherproof box or location
Dimensions
4.6 in x 9 in x 11.5 in | 3 lb
Output Information

115 volt, 60 cycle; pulsed output (1-second intervals)
0.5 joule output
Output voltage no load is 10,500 volts

Additional Benefits

Digital timing
Fuseless design
UL listed
Built in the USA
Indicator light showing fence charger is working

Use with which Animals

Chickens
Rabbits
Goats
Pigs
Cattle
Horses